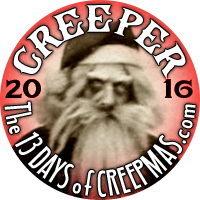 Yes, it's that time of year again where we try to extend the creepiness of Halloween into the even darker December days, in retaliation to Christmas trying to edge it's way out towards Halloween!
Over the next 13 days I'll be posting more spooky stuff to fill you with winter chills, so keep a cup of mulled wine handy to bring a bit of warmth back to your fright-frozen heads!
And remember to click the badge at the top of this post, or at the right hand top of the page, to be zapped away to a list of all the other participants in this year's creepy countdown!